The Lies That Bind: Speculative Polls Point Hillary, Election Points Otherwise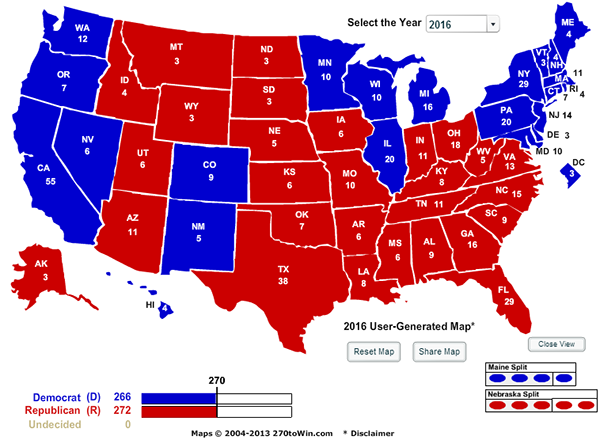 On November seventh of this election year, all eyes were on Hillary Clinton. Polls from Reuters, Bloomberg, NBC and ABC news all stated Hillary's advantage over Trump to be that of anywhere from three to five points. The election, at this point, was a resounding battle cry for Hillary, for America had placed Hillary as the next President of the United States. This was not mere bloviation. This was fact. However, the facade of the Clinton machine came down in one fell swoop on November eighth: election day.
What was once across the board support for Hillary became across the board for Trump. With Trump winning 279 electoral votes to Hillary's 228 and speculative polls pointing the opposite direction, something was clearly amiss. Could result this point to the silent majority or implicit bias within the mainstream media? Filmmaker, Michael Moore, has posted a post-election to-do list. "Fire all pundits, predictors, pollsters, and anyone else in the media who had a narrative they wouldn't let go of refused to listen to or acknowledge what was really going on. Those same bloviators will now tell us we must 'heal the divide' and "come together," says Moore. Moore's answer, although militant, points to the media as the problem and aims to expose what he believes to be implicit bias.
I have spoken to students, who have conflicting opinions. "The polling could not have gotten it wrong; I think it was because those voting undecided or third party in the polls were secretly for Trump, but could not admit it," says one student, on the side of suppression of belief. "I didn't think that white men would turn out in such numbers and I thought the Latino vote would push her over in Florida. I wrong, but my predictions were only as good as the polls, and the polls had her up by a few points. She was winning in Pennsylvania, Michigan, and Wisconsin, but the problem was a lower African-American turnout in Detroit, Philadelphia, and Milwaukee and a stronger non-college educated white turnout. They didn't poll unlikely voters in these states, and they made all the difference," claims another student who goes on to say these are not those who are a part of the silent majority "because a lot of those people voted for Obama four years ago." They represent the not-so-silent majority.
Another student claims it was both a slanted media input, as well as the silent majority. "It has to do with the issue of the polls and their audiences. The majority of polls take information from the voters of the last election and does not necessarily account for those that didn't vote last time but had the full intention of voting this time around. Also it was abundantly clear that the media favored Clinton and looked to make economic gains by blowing up Trump. So media bias was most definitely a factor but not the only. I think that it definitely shows that the media was creating a falsehood of the astounding probability they depicted Clinton would have in winning the election."
And so, there are multiple perspectives to take, and beliefs to hold, but one thing is for sure: the path of our great nation has taken a new bend.