Ms. Stuart's Poetry Club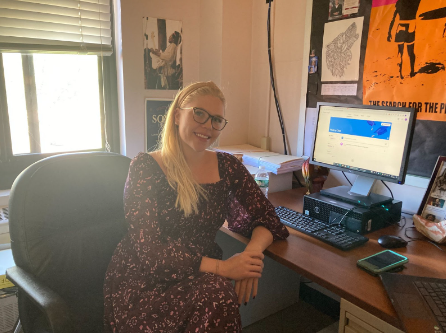 Calling all poets and talented writers! Ms. Stuart introduces Walt Whitman High School to the Poetry Club! This is the first year of this club and hopefully a great year for Ms.Stuart and all students participating. Ms. Stuart is very interactive with students, so this will be a phenomenal club for people searching for hands-on activities that get their mind working! I interviewed Ms. Stuart and some students participating in the Poetry Club and this is what they had to say.
When asked why she wanted to start the club, Ms. Stuart replied that her "love for poetry" along with her desire to inspire and share this experience with others drove her to create it for the students. Ms. Stuart also plans to "teach students about famous poets, help them learn more about their style and structure, and to recreate famous poets' poems using their own words and thoughts." Her definition of poetry is that it is "words and emotions put into a creative style that allows others to feel what they're going through." She also states that a student interested in poetry club doesn't need to be an experienced writer. The club is for anyone with a love for poetry. Ms.Stuart expects students to "want to absorb themselves with the style and structure of poetry.
I also interviewed some students. One student joined because they "really had a passion for poetry." Just like many other students, they said that they were very excited and wanted to get "more creative ideas" out of the club.
Poetry Club is an interesting and fun after-school club that expands a student's vocabulary, makes them better at writing, gets their brain working, and would look good on a college resume. If you like writing, creativity, and poetry, I would definitely recommend this club to you!
Leave a Comment