Safe Halloween 2017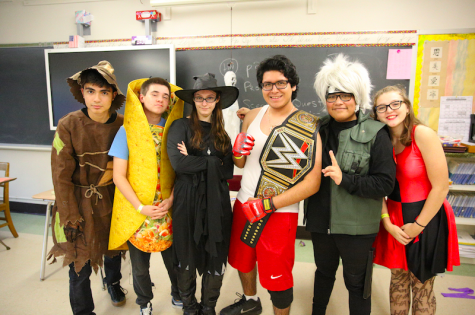 Hang on for a minute...we're trying to find some more stories you might like.
Another year, another successful Safe Halloween for Walt Whitman High School! With a much larger staff to help out this year, Safe Halloween 2017 was an amazing experience for everyone in attendance.
Safe Halloween is an event annually held at Whitman, and it allows children to experience the thrills of Halloween in a secure setting. The students of Walt Whitman High School, dressed up in costumes, interact with the children in attendance who display playful and kind attitudes. The ultimate achievement all volunteers strive for is watching our future Wildcats enjoy the entire experience. The students played games with the young members of our community, directed arts-and-crafts activities, and passed out candy from each of the "houses," or rooms in the hallways. Each "house" is of a specific theme such as military, superhero, Disney, and many more. As they enter the beautifully designed "house," the kids receive candy, take pictures with the staff, and interact with the dedicated students of Whitman.
Many Whitman students proudly showcased their cool costumes as they walked down the halls. The themed rooms had volunteers dress up as cowboys and cowgirls from the Wild West, superheroes, crazy scientists, Disney characters, anime characters, boxers, and even a taco! The kids also looked quite festive, as they were dressed as spooky witches, princesses,
Power Rangers
,
Teenage Mutant Ninja Turtles
, police officers,
Super Mario, Transformers,
and superheroes. One family even decided to dress up as characters from
The Little Mermaid,
with the father being King Triton, the mother being Ursula, and their daughter being Ariel.
The event was fun for everyone of all ages. Whitman volunteers, like Deja Ebalarosa, said that the event was "very fun and joyful." Joseph Lewin liked how people came in and said, "oh, you're a taco." A mother whose son was a red
Power Ranger
said that the event "brings out the true meaning of Halloween." A father commented on the staff, saying that "everyone is just amazing. So helpful and so nice." Definitely one of the most important opinions came from six-year-old Kelly. She "had a lot of fun."
Overall, Safe Halloween 2017 was a huge success. It showcased the spirit of Halloween and an incredible time had by everyone. Thank you to Mrs. Leogrande, Mrs.O'Neill, and the entire volunteer staff for making this event possible.  We hope to see you all at Safe Halloween 2018!
556 total views, 2 views today