The Back-To-School Blues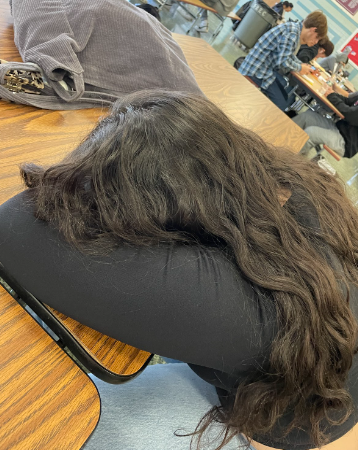 "Please, just five more minutes!" If I had to put my first two months of this school year into words, that sentence would encapsulate them perfectly.
Somehow, no matter how early I go to bed, I still feel like I'm running on three hours of sleep the next day. Junior Nayira Kabarajian agrees, and even said, "I get hit with footballs in gym class first period sometimes because I'm half asleep." Ouch. 
Besides the obvious need for more sleep, it also seems as if there isn't ever enough time to complete assignments while simultaneously participating in other day-to-day activities. As a senior, I've had to deal with waking up at 6 AM every school day while keeping up with these obligations for 3 years already, so why does it seem so much harder this year?  
There's simply too much to do with too little time. 
When asked about the hardship of transitioning back to school this year, senior Shaelyn Scharpf responded, "I think it's the masks. We had to wear masks for a good portion of school last year. This year, since we started not having to wear them, it feels like the first real school year we've had in a long time." Like Shaelyn said, the sudden removal of the mask mandates at Whitman might just explain why this school year feels so different. 
So what can we do to help accelerate this adjustment? When asked for his input, Senior Hasham Choudrey says, "Being in an environment where I have to deal with AP and honors school work, nine different clubs, and getting my college applications done on top of having a job can get really tough. I just always remind myself to keep going and to think about the sacrifices my family has made for me to be where I am today."  In addition to taking on this progressive mindset, it's important to note that Whitman's guidance counselors and student services workers are always available to lend a hand with this back-to-school stress. Crying over physics is no way to spend the year. Trust me, I've been there. 
Leave a Comment