Volunteering at the Public Library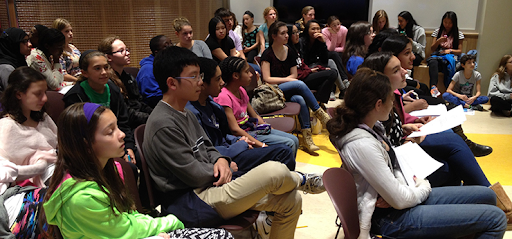 When spring arrives, it quickly becomes that time of the year. Frantic upperclassmen rush around, desperate to rack up their hours of community service. While not everyone ends up in this position, many people have and will continue to in the future. Organizations such as the National Honor Society require volunteer hours as a means of entry. Colleges, too, look for this attribute in prospective students. 
So, then, this leads students to question of where and how they should acquire these hours. Volunteer opportunities can be hard to find, especially in crunch time. Although this can be a struggle, it doesn't have to be. One of the best places to gain these hours is right in our own community: the South Huntington Public Library (SHPL). 
SHPL is nestled right off of Pigeon Hill Road, close to home with many opportunities for high school students. On their homepage, below the heading 'Just For You', are three categories: Adults, Teens, and Children. One click on the "Teen" heading brings viewers to a host of events — some for recreation only (programs offered through the library) while others listed are opportunities for community service. The tab labeled "Volunteering" provides an up-to-date list of current events available to teens. 
One of the best and easiest volunteer programs is SHPL's Teen Advisory Board. Teen Advisory Board (TAB) is a volunteer organization that meets monthly to discuss programs that will better the teen community at the library. TAB membership is open to all high school students and qualifies as one hour of community service per meeting. Those who come to the meetings will be given exclusive access to a variety of future volunteer opportunities to further their community involvement (and service hours).  
Whitman junior, Logan Needham, is a member of Teen Advisory's executive board. When asked how he'd describe Teen Advisory Board, he had this to say: "Teen Advisory Board is where we discuss with Mrs. Jen (the children's librarian) ideas for programs at the library. Sometimes we'll have special guests come in and each day we get to have nice and relaxing conversations about the library and its programming. It's great."
Make sure to check it out! It's never a bad time to get ahead of the curve and start volunteering. 
Leave a Comment