Girls' Varsity Tennis Makes Playoffs After 9-Year Drought
After closing out their regular season with an undefeated record, the Whitman Girls' Varsity Tennis (GVT) team won the league champions
hip title for the first time in nine years! Led by senior captains Emma Graff, Katie Miata, and myself (Kayla Sakayan), the Wildcats wasted no time making their presence on the court known this season, sweeping matches left and right.
If you reflect upon the team's season records even just a few years ago, they were not particularly notable; in fact, in 2015, GVT went a dismal 0-10. To see the team come full circle is absolutely incredible. I joined the Varsity Tennis team during my freshman year in 2016 as a singles player alongside three sophomores. From that point on, we made it our mission to collaborate with the ten returning upperclassmen to reinvigorate our team and embark on our own path to victory. Slowly but surely, our record improved. 
Now, you may be wondering what propelled the team to greater heights. Our coach, Seth Novick, highlights how our "second place finish in the league last year was rather disappointing," but he mentions that this upsetting event late in the previous season certainly "fueled the team to a league championship." He is confident that the Lady Wildcats are going to be fierce competitors in the playoffs, and even goes on to say that "other teams will be scared to face us" later this month.
Though there are struggles every season (injuries, challenging opponents, or demanding match schedules), the team always held steadfast to their ultimate goal of reigning supreme. Senior doubles player, Lauren Gotard, believes that the best way to describe this season is "circuitous" because we had to adapt and "push to individualize ourselves in a redefined team." Lauren credits the "initiative of the team members" with providing us with "more success than [she] could have imagined." Bridget Kenney, the other half of the dynamic Gotard/Kenney duo, emphasizes that our league victory was not only "long overdue" but also "well deserved" because "everyone pushed through challenging matches" and always put their best foot forward. 
The Girls' Varsity tennis team values creating an inviting environment for members old and new. Freshman Isabella Dinulescu is undoubtedly able to reflect upon her experiences in a positive manner because "everyone was so welcoming." Her favorite part of being on the team was being able to engage in pre-match rituals such as "taking pictures as a group and heading over to Starbucks on almost a daily basis." Overall, throughout my four years on this team, I can certainly say that the 2019 fostered camaraderie to a greater extent than any other; it brought about a new level of heart, dedication, and unity both on and off the court.
Best of luck to the team in playoffs, and congratulations on finally hitting our stride!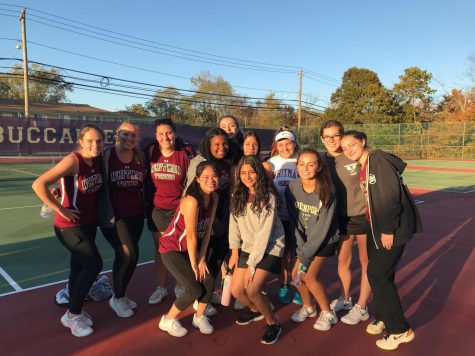 Leave a Comment