Powderpuff 2022: The Rundown
For the most part we're all familiar with Powder Puff, but what is it exactly? In the United States and Canada, powderpuff is a two fold event in which Junior and Senior girls compete in a flag football game while Junior and Senior boys compete in cheerleading. This year held Whitman's highly anticipated 31st powderpuff game. 
When asking students "What makes powderpuff so special?," various responses were shared. A Senior student believes "Powderpuff unifies the grade in a way nothing else does, it gives the shy kids a way to express themselves as well." Similarly, another student said "I love being able to help people get ready for the run in the morning and have fun." Agreed, the preparation for Powderpuff might just be as fun as the actual event. 
Expectations for the Seniors to win the powderpuff game and dance competition were sky-high. According to many Whitman students, a Senior victory is guaranteed. A sophomore who was on the flag football team last year said, "I played flag football last year, the seniors have a lot of talent." Another sophomore added that their opinion was the "Juniors had no energy [in the morning run]" 
Even Whitman's teachers had their own predictions. When asked who she thought would win the football game, a teacher replied, "seniors put in a lot of effort." 
Turns out, even the Juniors mostly sided with the senior victory in the flag football game. In contrast, predictions on who would win the dance were more in favor of the juniors.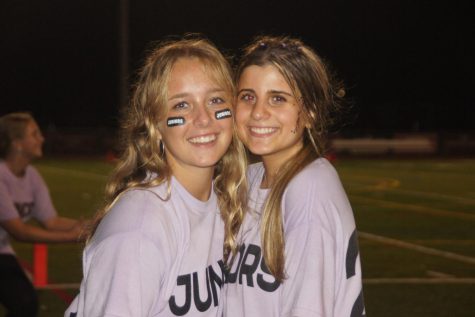 Two juniors have said "Isabel Minero (the choreographer of the boys cheerleading team) is a great dancer." 
In the end, the popular predictions were correct. The Senior girls beat the Juniors 60 to 36, with strong plays in the first half that ensured their victory in the second. And to make the night a two-sided victory, the Juniors took the win in the halftime show. However, the Seniors vs. Juniors cheerleading battle did not disappoint, and had all spectators and players on the edge of their seats. Overall, Powderpuff 2022 was an exciting showcase of Whitman's talented upperclassmen, whether they were throwing footballs or each other. 
Leave a Comment