Q&A with Coach Milazzo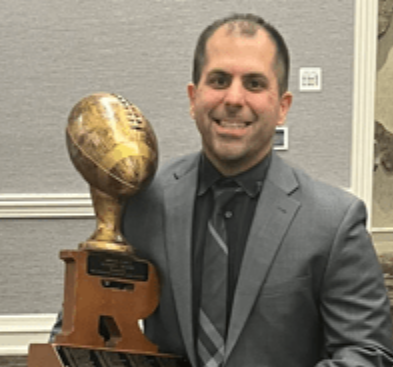 After last year's triumphant victory that crowned the Wildcats Suffolk football champs, many students and faculty members are curious about the fate of this year's team. I spoke with Varsity Boys Football defensive coordinator, Coach Milazzo, about the ongoing football season and his advice for students and athletes alike.  
Predictions for this football season? 
We, you know, just got to take it one game at a time. I'm sure that's cliche but it's one game at a time. So ultimately, the goal is to make the playoffs, get a good spot in the playoffs and then just see where it goes from there.
Any moments from this season that have stood out?
Big one [that] stands out right away was last week against Pat-Med. We had a goal line stand in the fourth quarter. It was 19-6, they were trying to get into a one score game. We were able to stop them four times in the red zone. And that was just a really big moment. It was good for our defense too, because we've struggled at stopping in the red zone and short yardage situations.
Thoughts on this year's football team vs last year's?
There was, I think, a tremendous amount of pressure on the [previous year's] team to do really well. A lot of high expectations. And we were so proud of what we accomplished. But every single week, the pressure was on. This team I'm really enjoying coaching. Just because everything is so new to them. They're a fun group, too. And they play really hard. 
How many hours of film do you watch on average? 
Just for me, I'm at 11 hours and 45 minutes over the course of seven days. Now I think that's on the high end, but I would say usually about 10 hours. It's a lifestyle.
Do you prefer to play more conservatively or aggressively?  
I think first and second down on my play calling defense is more conservative. It's what we call our base defense—this is the stuff we practice every single day. Third down's where we like to get aggressive. That's the down where they're more likely to be throwing. So there we really like to bring pressure.
How long have you been coaching? 
This is my eleventh season coaching varsity football.
Core values as a coach? Core values as a teacher? 
I think both of them kind of relate in a lot of ways. For me, it's all about relationships, right? I think if you can build those relationships with your players and build those relationships with your students, they're gonna want to play hard for you, they're going to want to do well. I really want to be that person that's getting them to do the right thing.
Are you superstitious? Any game day rituals?
I have a lot [of rituals]. So on game day I don't eat anything before the game. I'll eat after the game, like I'll feast. And right now I have a beard because it's been two weeks and we have a two game winning streak. If we lose, then I'll shave.
Any advice for athletes/students?
I'm all about hard work. Like, you know, talent is great. Skill is great. But the most successful people that I've been around have been the hardest workers. So you know, you have to have skill and talent. But as long as you're working hard to get better, you'll find a role, you'll find a position.
Leave a Comment