Can Google's Pixel C Match Its Competitors?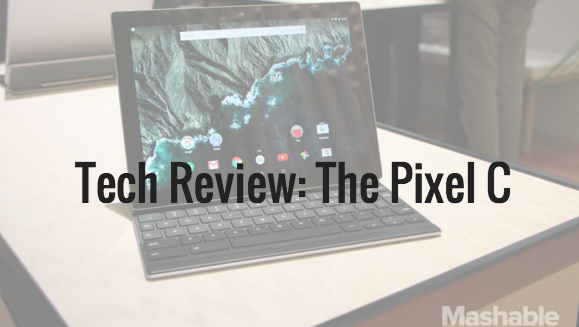 The Pixel C marks a new direction for Google. Never before has the company designed both the hardware and software of an Android device. The Pixel C also brings Android to a new category of devices — productivity tablets. The question is: How does an Android productivity tablet stack up against competing tablets from Microsoft, Apple, Samsung and others?
The Pixel C builds on the classy, yet minimalist design of Google's Chromebook Pixel laptops. The boxy look of the Chromebook carries over surprisingly well into a tablet form factor. It feels well built and rugged, and although it's thicker than most tablets, it's light enough to carry pretty much anywhere.
Where the tablet really shines is its keyboard. For an additional $120, you can buy the Pixel C Keyboard, which allows for a much better typing experience on the go. The Pixel C Keyboard integrates very well into the tablet's design. A strong magnetic pad on the keyboard holds up the Pixel C and mimics a laptop hinge, making the keyboard very portable. The keyboard is built very well with an all-metal exterior, but the omission of a few outer keys makes it feel somewhat cramped.
The Pixel C's worst enemy is its own OS. Android is designed first and foremost for smartphones, and it truly shines in that department. However, simply upscaling this outstanding phone interface isn't enough to make the Pixel C a truly productive device. Apps like Google's own Docs, Sheets, and Slides feel comically large without optimization for the Pixel C's big display. Although other tablets from Microsoft, Apple, and Samsung embrace split-screen, Android doesn't have native split-screen support yet.
With certain apps, the tablet can't even be used in landscape orientation and forces the user to rotate into portrait, which becomes especially awkward when the keyboard is attached. This is where other productivity tablets pull ahead. Microsoft's Surface tablets can run full Windows apps, and even Apple's iPad Pro has an arsenal of apps ready for its massive 13-inch display. For as much money as you would spend on a Pixel C, you could get a Windows tablet or iPad this does just as much.
Overall, the Pixel C is a great tablet. It's beautifully designed, fast and works really well with the Pixel C Keyboard. However, it lacks the features necessary to compete with true productivity tablets from other companies. If you're a fan of Android and want a well-built tablet but don't mind Android's limited functionality, the Pixel C is for you.
Leave a Comment