Chipotle—A Feast for All!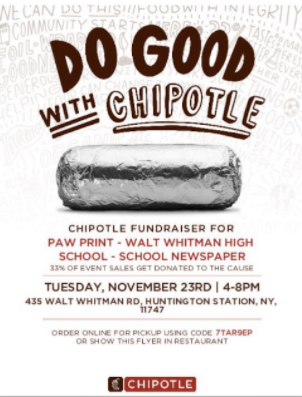 Chipotle is a restaurant to spend with family or friends. It has a pleasant and comfortable environment which is perfect for having long conversations, fun, and a pleasant meal, be it something with a burrito, a quesadilla, or much more since they have a wide range of Mexican food that has an exquisite taste and presentation. All of this in combination makes Chipotle a place that stands out among other fast food businesses and why not? We want to return!
Recently, the staff of PawPrint held a fundraiser at our local Chipotle on Walt Whitman Road. The fundraiser was very well attended and our staff raised nearly half of our yearly goal. Our staff advisor, Ms. Kaufman visited Chipotle with her family that evening and she said, "I love eating here, we get to eat delicious food and raise money for our school newspaper. Even my picky kids like the food here!"
Friends, family, and fellow Wildcats came out for our fundraiser. Our friend Daniel said, "Chipotle is a place that has a family atmosphere. You can eat and enjoy being there." He said this as he ate with his family!
 If you have not had the opportunity to visit, I invite you to go very soon. We guarantee you will not regret it. We want to thank the Chipotle foundation for supporting PawPrint and for the monetary resources that they provide to our Wildcat Community. 
Leave a Comment